You know what Wednesday means – WIAW aka What I Ate Wednesday!  Check out Peas and Crayons to see what WIAW is all about if you've never heard of it before.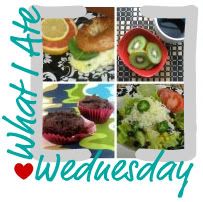 The past few weeks, I've written my WIAW posts based off of my Tuesday's eats.  Today I'm going to do it a little different.  Rather than post every little thing I put in my mouth yesterday (or any other day), I decided I'm going to share my favorite breakfast, lunch, and dinner that I've had in the past week.  Each meal is a new one, so I will include recipes for you to try them out yourselves – and trust me, you'll definitely want to!
BREAKFAST
Zuchinni Bread Oatmeal
This bowl of oatmeal reminded me exactly of zuchinni bread in a bowl.  Just like zuchinni bread, you can't taste the zuchinni, but the extra nutrients from the vegetable adds a lot to the meal.  Top with your favorite nuts, granola, and/or raisins.  Enjoy this hot breakfast on a chilly morning. 
Servings: 1
Prep Time: 3-5 minutes
Cook Time: ~5 minutes
Ingredients:
1/2 cup oats

1/2 cup grated zuchinni

1 scoop vanilla protein powder

1/2 teaspoon cinnamon

1/4 cup vanilla soymilk

Optional toppings: granola, nuts, raisins
Directions:
Boil water and oats on stove per oats' instructions.

Stir in grated zuchinni after oats start to thicken.

Take oats off of stove.

Stir in vanilla protein powder, cinnamon, and vanilla soymilk.

Add toppings if desired, and enjoy!
LUNCH
Peanut Butter Cup Smoothie
This smoothie is the perfect blend of chocolate and peanut butter.  It is a filling smoothie that is packed with healthy fats, protein, and other good-for-you nutrients.  The spinach gives an extra punch of nutrients without even tasting it.  Blend up this delicious smoothie for a post-workout meal or to satisfy your sweet craving!
Servings: 1
Prep Time: 5 minutes
Ingredients:
1/2 ripe banana

1/2 cup 1% milk

1/4 cup water

1 heaping tablespoon cocoa powder

1 tablespoon peanut butter

1 scoop vanilla protein powder

1 handful fresh spinach
Directions:
Add all ingredients into a blender.

Blend until smooth.

Drink up!
DINNER
Harvest Chili
(from Better Homes & Gardens magazine)
Although this isn't your average "chili", it sure is a chili to rave about.  The cayenne pepper and chili powder add heat to the mix of chicken-apple sausage, butternut squash, and Granny Smith apples.  Pair with a side of sweet, honey cornbread and a side salad.  This is the perfect "sweater weather" chili!
Servings: 8
Prep Time: 30 minutes
Cook Time: 30 minutes
Ingredients:
2 tbsp. olive oil

1 1/2 lb. cooked chicken-apple sausage links, cut in 1-inch pieces

2 large red onions, chopped

3 cloves garlic, minced

1 large butternut squash, peeled, seeded, and cut in 3/4-inch chunks (about 6 cups)

2 tsp. chili powder

1/8 tsp. cayenne pepper

3 cups reduced-sodium chicken broth

3 medium Granny Smith apples, peeled, cored, and cut in 3/4-inch slices

15-16 oz. can pinto beans, rinsed, drained, and slightly mashed
Directions:
In large Dutch oven, heat 1 tablespoon oil over medium-high.  Add sausage; cook 5-6 minutes, until browned; stir occasionally.  Removed with slotted spoon.

In same pan, cook onions and garlic 2-3 minutes, stirring occasionally, until nearly tender.  Add squash; cook 5 minutes.  Stir in chili powder, 1/4 tsp. salt, and cayenne; cook 1 minute.  Return sausage to pan.  Add broth; bring to boiling, then reduce heat.  Simmer, covered, 8 minutes.

Meanwhile, in large skillet, heat remaining oil over medium-high.  Cook apples 4-5 minutes, stirring occasionally, until light brown.  Transfer apples along with beans to chili.  Simmer 3-4 minutes, until apples are tender.

If desired, top with sage and apple slices.  Enjoy!
Questions:
What has been your new favorite meal lately?

Are you still enjoying smoothies even though the weather is getting chilly?

Do you often try recipes from magazines?