It's Wednesday, my friends, and you know what that means!  It's time for a little WIAW (What I Ate Wednesday) fun!  For those of you that don't know what WIAW is all about, head on over to Jenn's blog, Peas and Crayons, to find out!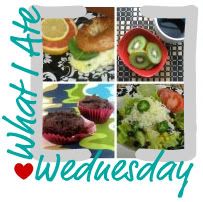 For today's WIAW post, I decided to give you a favorite of my recipes for each meal.  They are all recipes you have probably seen on my blog before, but I don't want the good ones to be forgotten!  😉
BREAKFAST
Peanut Butter 'N' Banana Pancakes
Pairs great with a DIY Pumpkin Spiced Latte!
LUNCH
Mocha Green Machine Protein Smoothie
SNACK
DINNER
Lowfat Green Chile Chicken Enchiladas
[source]
DESSERT
Questions:
What are some of your favorite recipes?  Link me up!

What has been the best thing you have eaten lately?