Happy week before Thanksgiving!  You know what that means?!  Only one more full week before a shorter week for most and the beloved Turkey Day!  I personally am getting way excited to leave for Arizona this Friday to visit my family for a whole week – yippeeee!!  I can barely contain my excitement (evidently).  Anyway, more on that later…
I hope you all had a great weekend full of relaxation, fun, and productivity.  If you missed it, we had a great Saturday full of relaxation, and I also roasted my first chicken!  Another success of my weekend?  I gave yoga another shot, and I actually found myself enjoying it more this time!  I was pretty excited.
(Yes, it's a recycled photo.  I don't take photos of myself doing yoga poses very often, let alone do yoga enough anyways. 😉 )
I decided to try out a power yoga video on Hulu that Brittany recommended.  I only did half of it because our internet was acting up and kept cutting out, but even the thirty minutes that I did must have done somethin' because the next day I felt a little soreness in my back and boot-ay.  Feeling a little sore always makes me feel like I was productive and worked hard in my workouts.  Apparently the workout I did worked some muscles I hadn't worked in awhile!
While the video I did wasn't as "power-ish" as I thought it would be, I still think I'll plan on sticking to "power yoga" workouts.  They're a little higher in intensity, and I enjoy that more than a basic yoga workout.  I didn't even realize Hulu had workouts, so I definitely plan on checking some more out.  I also would like to check out Jillian Michael's yoga DVD, as I really enjoy her other workout DVDs.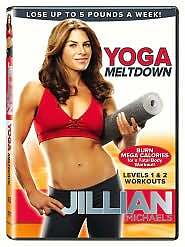 [source]
Questions:
What is your favorite kind of yoga? 

How often do you do yoga (if ever)?

Have you ever tried Jillian Michael's "Yoga Meltdown"?  If so, what'd you think?