It's already Hump Day – woweee where has this week gone?!  I'm not complaining though, that's for sure.  After a week of vacation and trying to get settled back in these last couple days, I'm ready for a couple days of being at home and putting up some Christmas decorations!!  Because we were on vacation last week, I didn't get a regularly scheduled WIAW post in, but you can take a look at my "What I Ate… On Thanksgiving" post!  I'm sure it's more exciting than what another normal day's eats would've been anyways.  😉
I DO, however, have a regularly scheduled WIAW a.k.a. What I Ate Wednesday post for you this morning!  Thanks to Jenn over at Peas and Crayons for hosting this fun event.  If you're interested in taking part or finding out more about this fun little par-tay, I'd encourage you to head on over to her site to check out all the details!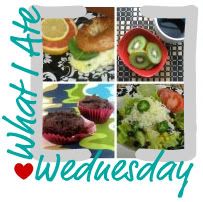 Today I am excited to share with you a few new foods that I've discovered or reintroduced back into my life that I am currently in love with!  Ok, I'll be honest, dinner isn't all that exciting or new, but the other stuff is, I promise!  Let's get to it, shall we?!
BREAKFAST
STUFT Mama's Pumpkin Protein Muffin topped with 1 tablespoon sunflower butter and a drizzle of light maple syrup
This muffin is something I saw on STUFT Mama's blog, and I've been wanting to try it for awhile.  I finally gave it a shot yesterday!  I was immediately in love.  It was moist, delicious, and was the perfect sweet-savory combo with the sunflower butter and syrup!
a big ol' mug of coffee with a splash of vanilla soymilk
LUNCH
1/2 sandwich of turkey, muenster cheese, dijon mustard, and a few pretzel thins on a slice of wheat bread with a side of a spinach salad topped with balsamic viniagrette
There's a couple things I adored about this little sandwich that made it oh-so-amazing.  First, the muenster cheese – so so good.  I've never been much of a cheese lover, but this stuff has the best flavor.  Second, the pretzel thins – a little extra saltiness and crunch adds a ton to the sandwich.  
honey greek yogurt topped with Love Grown Granola
I recently discovered this Kroger (off-brand) Greek yogurt at our local grocery store.  It's less expensive, and I am LOVING the honey flavor these days! 
AFTERNOON SNACK
Katie's Chocolate Chip Banana Protein Cupcake
This is very similar to my Pumpkin Chocolate Chip Protein Pizookie, except Katie put her own little twist on it.  It sure was incredible!  She has a few other combinations that I am wanting to try too!  This protein cupcake will definitely be making a reappearance for my snacks and breakfasts.
[as you can see, I totally devoured it before remembering to snap a photo – oops.]
DINNER
grilled chicken marinated in olive oil, white vinegar, and various seasonings; homemade mashed sweet potatoes; green beans
So there's nothing really "new" about this meal, but you can bet that I am still just as much in love with sweet potatoes as I was a month ago.  They are so flippin' fantastic – mashed, baked, roasted, whatever, I love them all.  Needless to say I had about 2.5 servings of mashed sweet potatoes last night.  😉
EVENING SNACK
Barbara's Peanut Butter Puffins in vanilla soymilk
[unpictured – I always forget to photograph at least something, darnit]
I never had tried these before, but I heard about them from fellow bloggers.  The peanut butter kind specifically stuck out to me because obviously I am a peanut butter maniac.  So when I saw them while I was at Trader Joe's in Arizona, I immediately stuck them in the cart, no questions asked.  After a bite last night, I wish I would've bought 100 more boxes.  They remind of Peanut Butter Cap'n Crunch, which I love, but rarely buy because I would eat the whole box in one day.  Ok, you probably get it – I think these are amazing, enough said.   
Questions:
Do you have any "new food faves" that you're loving lately?  If so, please do share!

What are your favorite cereals?