Happy Wednesday!  This week is flying by thanks to an extra day off on Monday.  I suppose since it's already Wednesday, I should get down to the nitty gritty and  get on with my WIAW (What I Ate Wednesday) post!  Head on over to Peas and Crayons if you're interested in finding out what the WIAW fun is all about.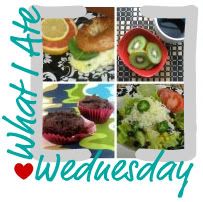 I don't know about you all, but the last couple days I've been really loving my fibrous and nutritious filled meals after my sugar and carb overload this past weekend.  Healthy eats never tasted so good!  Today I wanted to share a few meals that are some of my personal favorites that help me "recover" from a food hangover.
 BREAKFAST
Oatmeal is a whole grain that is packed with fiber to help your digestive system to get going right away in the morning.  The zucchini is a great way to sneak an extra vegetable in your day too, which is extra important after not seeing many greens for a few days. 
LUNCH
This soup is a great mix of protein, carbs, fats, and fiber to keep you feeling satisfied throughout the rest of the afternoon so you're not tempted to snack on other not-so-healthy for you options that your body might still be craving from the past few days.
AFTERNOON SNACK
Plain Greek yogurt with fruit added
Plain Greek yogurt is packed with protein without the tons of added sugar that flavored Greek yogurt has.  The natural sugars from the added fruit will help sweeten the yogurt while also adding in some extra nutrients to your snack.  The protein + carb combination should easily keep you full until dinner.
DINNER
Spaghetti squash topped with marinara sauce
This meal is packed with veggies but tastes more like a "comfort food" than a vegetable dish.  Serve with some extra greens and a slice of whole wheat bread on the side to round out the meal.
EVENING SNACK/DESSERT
Pumpkin Chocolate Chip Pizookie
Your sweet tooth still might be in overdrive from the abundance of sweets you've had lately, so satisfy it with a healthier alternative that is high in protein. 
Questions:
Have you been trying to recover from a "food hangover" the past couple days?
What are your favorite nutrient packed meals/snacks?