Happy Wednesday!  Let's get right to some WIAW action, shall we?!  As always, thanks to Jenn for hosting WIAW.  Check out what WIAW is all about over at Jenn's blog, Peas & Crayons!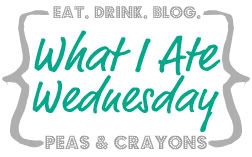 Today's eats and events document yesterday… just FYI.
  Yesterday just happened to be the first day of spring!  Hallelujah!  Even though winter was pretty mild this year here in northern Utah, the warmer months are always my favorite.  Spring started with a bang here bringing some gorgeous blue skies and sunny weather.  It was still a little chilly, but I was glad to hear it's supposed to warm up as the week goes on.
breakfast
I haven't been sleeping very well for the past week.  Since Tuesdays are my day to catch up on stuff at home, I didn't set my alarm with the hope that I'd be able to catch up on some much needed sleep.  I slept in until almost 7:45 AM which I haven't done in forever.  It was glorious and just what my body needed. 
I started the day with an ever-so-delicious bowl of overnight oats.  I used my chia seeds and absolutely love the difference they make!  I mixed together 1/3 cup old fashioned oats, 1/3 cup plain greek yogurt, 1/3 cup unsweetened almond milk, and 1/2 tablespoon chia seeds in a tupperware container and let it set in the refrigerator overnight.  In the morning I stirred in a ripe mashed banana and I topped it with a blob of peanut butter.  Yum!
mid morning snack
I enjoyed a Honey Graham Clif Z-Bar for a little morning snack.  It was good but the Chocolate Brownie flavor is still my favorite of the ones I've tried so far.
I did a bunch of cleaning around the house. The kitchen counters got scrubbed, appliances got wiped down, bathrooms were cleaned, carpets were vacuumed, floors were swept, furniture was dusted… I love a clean house!
lunch
At around 11 o'clock I headed out for a three mile run to enjoy the beautiful spring weather.  Our neighborhood is super hilly which makes my outdoor runs a little more challenging, but I was proud of how I finished.  My Garmin ran out of battery right toward the end, so I'm guessing I finished in about 26 minutes give or take.  With all the hills, I'll take it!
I came home and re-energized with one of my favorite smoothie concoctions as of lately.  Into the blender went 2 scoops CLICK Mocha Protein Powder, 2 tablespoons peanut butter, 1/2 tablespoon chia seeds, 3/4 cup unsweetened almond milk, a handful of fresh spinach, and ice.  It's so creamy and delicious!
(My husband gets so disappointed whenever I use this cup… He's a Chicago Bear's fan and my family are Green Bay Packer fans.  Good thing he wasn't home when I was drinking this!
)
mid afternoon snack
After my smoothie I was freezing!  I took a hot shower but still couldn't quite warm up, so I decided to have a mug of hot tea.  I used a Lipton Black Pearl teabag that Heather sent me.  It was perfect and warmed me right up!
I worked on some online personal training work for a couple clients, caught up on my emails, and did some laundry throughout the afternoon.  Somewhere in there I had a delicious peanut butter + chocolate-y snack too.  It involved 1/2 cup plain nonfat greek yogurt with 1 tablespoon peanut flour (or PB2) and stevia mixed in, and was topped with a blob of Trader Joe's Cocoa Almond Spread.  Wowee was this good!
I decided to further enjoy the beautiful spring day and take the pups out on a two mile walk.  They were happy as could be.
As was I… (rockin' the no make up, no hair done look
)
dinner
Cody got home right before dinner time, so we chatted for awhile until I started on dinner.  We had chicken pesto panini sandwiches with steamed broccoli on the side.  This is one of Cody's favorite dinners, and it's also incredibly simple to make!  Score!  I simply cut a chicken breast into thin slices, cooked it over the stove in a creamy pesto sauce, slapped it on a piece of bread with a slice of muenster cheese, and put it on the good ol' George Foreman.  It comes out as a cheesy, melty, and delicious panini sandwich!   
evening snack/dessert
After dinner involved a good heart-to-heart chat with the hubby about some stuff I'm dealing with (he's always so good at making me feel better!), and then an episode of 24 while enjoying a little evening snack.  I decided to try out Julie's Chocolate Avocado Mousse.  I was a little weary of how it would turn out at first, but I ended up loving it!  The only changes I made were that I halved her recipe, used regular cocoa instead of dark chocolate cocoa, and used stevia instead of honey.  It truly does taste like a delicious mousse dessert!  I topped mine with a little bit of peanut butter too.  Apparently I was diggin' the peanut butter + chocolate combo yesterday?!  Sheesh.  Although when do I NOT love that combo?
I then proceeded to face plant into bed…  It was a great first day of spring indeed!
Questions:
Was it beautiful weather where you live for the first day of spring yesterday?
What has been one of your favorite meals and/or snacks lately?