Holy moly!  I can't believe I'm already on #30 of my WIAW posts!  Sheesh, time flies when you're having fun, eh?
  If you want to learn more about WIAW (What I Ate Wednesday), head on over to Jenn's fabulous blog to check it out.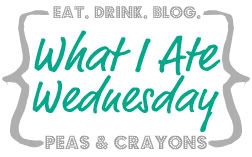 Once again, today's WIAW post covers yesterday's eats and events.  I'll tell you straight up, yesterday was a pretty lazy day.  I could've made it more eventful, but I chose for it to be lazy and more laid back.  I was content with it though.  I woke up feeling like I was starting to get a little sick.  My nose was plugged, and my chest felt heavy.  Needless to say, a lazy day was just what the doctor ordered.  It was rainy and dreary most of the day which helped me feel even more content with my laziness.
I did do a few productive things: emptied the dishwasher, vacuumed, started on laundry (still in progress), did a half hour pilates video from Blogilates (holy burn!), and worked on some blog stuff.  Other than that, there was some reading, watching old One Tree Hill episodes on Netflix, and a little baking involved in the day.
Of course I ate some good food too.
  Let's take a look!
breakfast – 6:30 AM
"PB & J Custard Oats"
1/3 C. oats, large egg, 1/2 T. chia seeds, and half of a banana whisked and cooked on the stovetop until thick.  Topped with a blob of peanut butter and blackberry jelly.  This might just be my new favorite version of "custard oats".
mid morning snack – 9:30 AM
STUFT Mama's Fudgy Protein Cookie Dough
I was a little disappointed because I think I added too much vanilla stevia to it.  I topped it with peanut butter (of course), and only ended up eating the peanut butter and about half of the protein cookie dough.  I hope next time I'll have better success with it because I LOVE the original version of this protein cookie dough!  It all ended up being fine though because this ended up being a lot bigger than I initially realized, and I wasn't super hungry at the time.
lunch – 12:30 PM
1/2 smashed avocado + garlic powder + salt + fried egg + melty cheese on top of whole wheat toast
Oh.my.goodness.  This is my new favorite open faced sandwich.  These flavors were perfect together and packed a ton of healthy fats too!
An orange was eaten afterward.  It was juicy and delicious, but was a pain to peel.
mid afternoon snack #1 – 2:00 PM
Peanut Butter Trail Mix Fudge Bar
I used Averie's recipe as a base, but made quite a few modifications since I didn't have her ingredients which made my version quite a bit different.
Ingredients:
1/2 C. sugar free maple syrup
1/2 C. all natural crunchy peanut butter
1/3 C. vanilla whey protein powder
1/2 teaspoon vanilla
1/4 C. chopped salted roasted almonds (or any nut)
1/4 C. NatureBox Zingy Currants (or any dried fruit)
Directions:
Heat maple syrup on stove right up until it's about to boil, but do not let it boil.  Turn off heat.  Add peanut butter and stir until smooth.  Add protein powder and vanilla.  Stir until mixed together.  Add nuts and dried fruit.  Mix all together.  Pour mixture into a 4" x 6" pan or tupperware and put in freezer for about an hour or until hardened.  Enjoy! (Makes 6 squares)
I tried out one of these bars (turned out great!) and had a glass of milk with it on the side for my first afternoon snack.
mid afternoon snack #2 – 4:30 PM
Mug of Barbara's Peanut Butter Puffins with milk (x2)
This cereal is so darn addicting!  I planned on having only one mug, but of course I had to go back for another.
dinner – 6:30 PM
Grilled salmon, grilled sweet potatoes, and broccoli
This was such an easy meal to make and clean up!  Double score!
evening dessert – 8:30 PM
Cookies 'N' Cream ice cream with a blob of peanut butter stirred in
This has been my favorite dessert as of lately!  Yummm.
I feel like I'm constantly eating lately, but I don't mind!  To ensure that I'm getting an adequate number of calories, I'd much rather eat several smaller meals than a few HUGE ones that make me feel stuffed afterwards.
Great article & something to think about: Do I Need 2500 Calories?
Make it an AWESOME day!
Questions:
When you have a lazy day, what are some of your favorite lazy things to do?

What has been one of your favorite things to eat lately?