Hey hey!  Happy new day to you!  I always love the start of a new day.  Yesterday was "one of those days" where I felt like I had a TON to do and nothing was working out how I had hoped it would.  Thank goodness that today is a new day!
Wednesday means another WIAW (What I Ate Wednesday) post!  If you're interested in learning more about what WIAW is all about, check out Peas & Crayons for more info.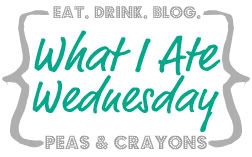 Today I'm going to share with you my eats from Monday.  As I shared on Monday, we were in Arizona this past weekend visiting friends and family.  We drove back home on Monday, which meant eleven hours in the car.  It was a long drive, but I always have so much fun with Cody and the pups along the way.  My eats from Monday weren't the healthiest they could have been, but they also weren't terrible.  I had a little more sugar than I would've liked, but it happens, right?
breakfast – 7:00 AM
I had two pieces of toasted cinnamon raisin bread topped with chunky peanut butter with a side of blueberries and strawberries at my parents' house before we hit the road.  A mug of coffee was consumed as we started on our drive to wake me up a bit.  Sorry all of this was unpictured… I didn't think about making my day of eats a WIAW post until later.
snack #1 – 10:00 AM
On the road I enjoyed a Vanilla Almond LUNA Bar that I snagged from my parents' pantry before we left.  This was my first time trying this flavor, and I really enjoyed it!
snack #2 – 12:30 PM
We decided to hold out on lunch until we could get to a Chipotle since we were both majorly craving it.  I had a few handfuls of peanut butter filled pretzels mixed with Trader Joe's mini chocolate peanut butter cups to hold me over until lunch.  This was the perfect sweet and salty combo!
lunch – 2:30 PM
We stopped at Chipotle for lunch where I got a Vegetarian Burrito Bowl.  In my bowl was brown rice, black beans, roasted green peppers and onions, pico de gallo, cheese, guacamole, and lettuce.  I polished off the bowl in no time.  It was SO good!
dinner

dessert – 6:00 PM
We both really weren't that hungry for dinner, but when we passed by a Dairy Queen on the road, we both thought that a Blizzard sounded perfect.  I got a small Cookie Dough Blizzard that totally hit the spot!
As you can tell our day of eats were kind of all over the place thanks to traveling, but they were delicious nonetheless!  We finally arrived home at about 8:00 PM Utah time, and ended the evening with unpacking, showers, and BED!
Questions:
What are your favorite on-the-road snacks?
Do you like Chipotle?  If so, what do you usually order?