Happy What I Ate Wednesday (WIAW)!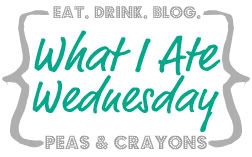 Yesterday was one of those days that I just felt sleepy all day.  It was definitely a rather uneventful day, but it was very restful which is apparently what my body needed.  This past weekend was go-go-go so I'm assuming I was just needing some catch up?
I woke up about an hour or so later than I usually wake up.  I think I slept a little later because I woke up when Cody's alarm clock went off at 4:45 AM and couldn't go back to sleep right away.  I finally rolled out of bed at 7:15 AM and got my coffee and breakfast going.
I picked up some blueberries at the store yesterday because I've been wanting to try out this recipe from Brittany and also Katie's Blueberry Muffin Oats this week.
This morning I went for Brittany's Protein Berry Muffin, but unfortunately it didn't quite turn out how I had hoped.  I subbed almond flour for buckwheat flour and used whey protein powder instead of vegan protein powder.  I'm guessing that is what caused my "muffin" to overflow in the microwave and come out more like a bowl of oatmeal than a muffin.  Even though it wasn't quite a muffin, it sure tasted great!  It was super filling too.  Next time I'm going to follow Brittany's exact directions, and I'm sure it'll come out looking more like a muffin.
   I also topped mine with some sunflower seed butter – great addition!
I spent my morning catching up on some blogs, conquering my email inbox, and creating some workouts for clients.  Around 10:30 AM I decided it was time for a mid morning snack.  I found some full fat Greek yogurt a couple weeks ago from Walmart (of all places!) that I've been loving lately.  Unfortunately they were out of the plain when I went yesterday, so I grabbed their honey flavor.  I decided to try it out with some chopped kiwi.  Yum!
After finishing up a few more more things on the computer, I decided to get moving a little bit.  I found a dance workout video on Netflix that I tried out for the first time.  Good thing my blinds were shut and no one was home to watch me because I'm sure that I looked like a goob the whole time.  I had a good time laughing at myself, that's for sure.
  I took a shower and got some laundry started before it was time for lunch at about one o'clock.
Monday night our wonderful neighbor came by to give us some homemade honey wheat bread.  I had a couple slices the night she dropped it off, and I couldn't resist including it into my lunch yesterday.  It is so good!  I topped two thick slices with crunchy peanut butter and blackberry jelly with some baby carrots on the side.
I did some cleaning in the kitchen and then decided that I was going to go to Target to pick up a few things and browse around.  As I walked into our bedroom to finish getting ready to go, my bed all of a sudden looked really inviting.  I didn't think I'd fall asleep for long, but I ended up sleeping for about an hour and a half until 3:30 PM.  Naps are so not me!  I don't know what overcame me, but it sure was nice!
I woke up ready for a snack so I went straight for the new box of cereal I bought yesterday – Peanut Butter Cheerios! I've been wanting to try them ever since they first came out, and I'm so glad I finally did!  They are certainly a winner in my book.  Peanut butter.  Duh.  I added half of a sliced banana and some milk to a big mug for the perfect midday snack.
I spent the next hour (or two?) catching up with my girl Brittany on g-chat.  She makes me smile.  A little later Cody called and I talked to him for quite awhile to hear how his day was going.  He had a loonnggg day yesterday.  I felt so bad for the poor guy.  He left the house at 5:15 AM and didn't get home until 9:30 PM.  He is such a hard worker.  I'm so proud of him.
Finally around 6:30 PM I decided I should probably throw something together for dinner.  I opted for some grilled chicken, sweet potato wedges, and kale chips.  This is one of my favorite meals!
I emptied the dishwasher and cleaned up the kitchen after dinner.  I decided I should finally fold the clean clothes sitting in the laundry basket.  I dread folding laundry.  I wish I could hire a professional laundry folder.  Is there such a thing?
The next couple hours consisted of: writing this blog post, hiding from a sales person that came to our door, catching up on more emails, reading more blogs, talking to our dogs, and being lazy.
Then I dished out some chocolate chip cookie dough ice cream.  Heaven in a bowl.
Exciting day, right?  I knew you'd think so.
I hope you have a fabulous day!
Questions:
Have you tried the Peanut Butter Cheerios?  If so, are you a fan?
What is one of your favorite meals?
I'm sure I've asked this question before, but what is your favorite ice cream flavor?