Per my awesome readers' requests (aka YOU!), What I Ate Wednesday (WIAW) posts are continuing!  So here we are with another one filled with all sorts of good eats.  Check out Jenn's WIAW page for more of the details.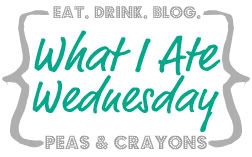 After looking at my meals and snacks (from yesterday), I realized that they were pretty much all "traditional" foods that I put a healthy spin on.  I love swapping out ingredients to make dishes healthier and more nutritious. It really is so simple too.  You just have to think outside the box a bit!
breakfast – 6:15 AM
What I Ate: Pancakes using Kodiak Cake Whole Wheat Flapjack & Waffle Mix with a half of a smashed banana mixed into the batter; topped with all natural peanut butter and syrup
Traditional Version: Buttermilk Pancakes with peanut butter (not all natural) and syrup
These Kodiak Cakes truly taste like the real deal, but they are made with whole wheat and oat flours and use all natural ingredients.  If you don't have Kodiak Cake mix, you can always make your own healthy pancake batter or buy another brand of whole wheat pancake mix.
mid morning snack – 9:30 AM
What I Ate: Strawberry Vanilla Protein Shake – 1 scoop vanilla protein powder, half a cup of milk, 4 large strawberries, 3 drops NuNaturals Vanilla Stevia, ice
Traditional Version: Strawberry Milkshake
This tasted just like a strawberry milkshake.  Yum!
lunch – 12:00 PM
What I Ate: 1/2 smashed avocado, mozzarella cheese, and tomato slices toasted and pressed in between two slices of whole wheat bread; asparagus on the side
Traditional Version: Grilled Cheese Sandwich
This sandwich totally hit the spot!  It satisfied my craving for cheesy goodness, but the avocado, wheat bread, and tomato made it a healthier choice.
mid afternoon snack – 3:00 PM
What I Ate: STUFT Mama's Protein Cookie Dough
Traditional Version: Good ol' buttery sugary cookie dough
This stuff is no homemade chocolate chip cookie dough, but it sure does satisfy my craving for it while still being healthy.  It's packed with protein, healthy fats, and whole grains.
dinner – 6:30 PM
What I Ate: Chicken fajitas with bell pepper on a whole wheat tortilla stuffed with plain Greek yogurt and a sprinkle of cheese (x2); spinach salad with chopped tomato on the side
Traditional Version: Chicken (or beef) fajitas on a flour tortilla stuffed with sour cream
dessert – 8:15 PM
Ok, there's no healthy swapping going on here… I suppose I could make the argument that I had nonfat frozen yogurt instead of full fat ice cream, but I'm sure my Reese's, Butterfinger, and fudge toppings cancel that out.  Cody and I had to pick up a few things at Target, and we couldn't let our Yogurt Bliss coupon go to waste.  Of course a pit stop on the way home for some fro-yo was a must.  I know, I know, it looks like I have ice cream every.single.night.  Not true, but it may be close to that.
Questions:
What are some healthy spins that you put on traditional meals/snacks?
What are your favorite frozen yogurt/ice cream toppings?