Wow, it's already Wednesday!  Awesome, right?!  Gotta love those three day weekends!  Wednesday means it's time for What I Ate Wednesday (WIAW) where I get to share my delicious eats with ya'll.  Check out WIAW and all of its glory over at Peas & Crayons.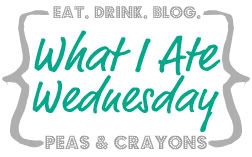 Today's post shares yesterday's meals and snacks which I got a little more creative with than usual.  I tried out some new combinations of foods and recipes that turned out to be pretty darn good if I do say so myself.
  Let's check them out!
breakfast – 6:45 AM
I used my Kodiak Cake mix (nothing new there) and sliced a bunch of strawberries up to add to the batter instead of my usual mashed banana or blueberries.  I slathered a thin layer of sunflower seed butter on each pancake, topped them with a big dollop of plain Greek yogurt sweetened with NuNaturals Vanilla Liquid Stevia, and dug right in.  It was a winning combo for sure.
mid morning snack – 10:30 AM
Before I knew it, it was 10:30 and I realized I needed some sort of snack.  Adam's All Natural Crunchy Peanut Butter (my all-time favorite) spread on wheat toast with a drizzle of honey.  Simple and perfect.
lunch – 1:00 PM
I had no idea what I wanted to eat when it came time for lunch.  Our refrigerator and pantry were pretty bare because I still needed to go to the grocery store after being gone all weekend.  (Cody lives off of toast and pizza while I'm gone.)  I opened the freezer and found these frozen chicken and vegetable dumplings which sounded pretty good.
These were something I initially bought for Cody, but after trying a bite of his a couple weeks ago, I realized how good they are!  Despite the sodium content, the nutritional stats and ingredient list aren't half bad either.
I dipped my dumplings in a little soy dipping sauce, and these totally hit the spot!
I was craving something a little sweet afterward, so I finished up the last of the strawberries since they were looking a little wilty and sad.
mid afternoon snack #1 – 3:30 PM
I enjoyed some Chobani Plain Greek Yogurt with honey and some chopped kiwi mixed in.  Nothing too new or exciting there, but tasty as always.
mid afternoon snack #2 – 5:30 PM
I was started to feel pretty hungry all of a sudden while making dinner, so I grabbed a handful of almonds that helped satisfy me until dinner was ready.
dinner – 6:30 PM
This meal was a new one I was pretty excited about.  I've recently been trying to find some new inspiration for dinners, and I came across this wonderful looking skirt steak salad that I knew Cody would love.  I did pretty much everything the recipe called for, except I used feta cheese instead of blue cheese and spinach instead of arugala.  I used the Steakhouse Mustard Vinaigrette that she recommended as well.  It was a hit!  Next time I want to add some roasted asparagus and avocado to the mix too!
evening snack – 8:30 PM
By the time we got back from our walk, my stomach was already rumbling again for something to eat.  Apparently dinner didn't satisfy me quite as much as I had hoped it would.  I opted for my recent "go-to" evening snack of LIFE cereal.  I had the below small bowl plus another one.
So there you have it!  Some of my new creations along with some of my usual favorites.
Have a wonderful day!
Questions:
Are there any new creations you have made in the kitchen recently?

Do you have any good dinner recipes you want to share?  I need some more ideas!