Happy What I Ate Wednesday (WIAW)!  We are on to another post of eats in the life of Ashley.  Let's get right to it, shall we?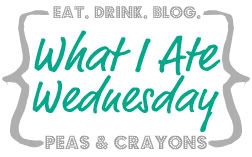 I know what you're thinking when you read that title… "Isn't she always nut butter crazed?!"  Uh yeah, you're right.  I am.  BUT this title just seemed so fitting for yesterday's eats.  Let's just say there was quite a bit of nut butter involved!  Wait, is that anything new?!  I guess not…
breakfast
I had Kodiak Cakes with half of a smashed banana in the batter, topped with Archer Farms Almond, Peanut, Cashew Butter and a drizzle of maple syrup.  Are you getting sick of seeing these yet?  Oh, but guess what?!  For all of you that are dying to try Kodiak Cakes, they are now being sold nationwide at Target!  Just another excuse to get your hiney to Target.  Awesome, right?  Even better, you can use this $1 off coupon!
mid morning snack
I bought this massive carton of blueberries the other day, so I promised myself I would eat some every single day.  Yesterday I chose to eat them with some plain Chobani Greek Yogurt with a few drops of NuNaturals Vanilla Liquid Stevia stirred in and topped with SunButter.  YUM!
lunch
Lunch was quick and on-the-go since I was running late to meet up with a friend.  I went with a smoothie that included:
2/3 cup milk

1 scoop chocolate protein powder

1/2 frozen banana

2 tablespoons all natural peanut butter

handful of spinach

ice
Molly wanted a taste too.
mid afternoon snack #1
I had a vanilla soft serve cone at Chick-Fil-A with my friend and her kiddos  which I might add, are the cutest kids ever.  Just sayin'.  No picture.  I was too busy watching my friend's daughter get ice cream all over her face and hair.  It was TOO funny!
mid afternoon snack #2
Of course I was hungry when I got home so I went with a honey nut rice cake topped with Archer Farms Almond, Peanut, Cashew Butter.  More nut butter = happy Ashley.
dinner
Dinner was one and a half of these Red Sauce Chicken and Black Bean Enchiladas plus a spinach salad topped with tomato, mushrooms, and balsamic vinaigrette.  These enchiladas are always a favorite.
evening snack
A big ol' mug of Cinnamon LIFE cereal of course!  Sometimes I wonder how I went so long without this stuff in my life.
And yeah, I know the photos are pretty mediocre today.  Ok let's be real, they're pretty much always mediocre, but especially mediocre according to my awesome photography skills.  My excuse?  Laziness.  Thank goodness I don't write a full on food blog!
Ok, enough with my rambles.  Have a great day!
Questions:
What is your favorite kind of nut butter? (i.e. brand, type)
Do you eat nut butter everyday?  If so, how much?  Betchya can't beat me!