Yay for Friday!
Today I'm going to keep things pretty light hearted since it is Friday and all.  First off, let's start with some awards that need to be addressed.  Brittany recently nominated me for the "Reader Appreciation Award".  Thanks Brit!
I was mostly a sucker for the survey that came along with this award.  You know me, I love me some surveys!
1. What is your favorite color?
GREEN!
2. What is your favorite animal?
Dogs!  Especially my two favorites – Molly and Ryan.
3. What is your favorite non-alcoholic drink?
Water or coffee.
4. Do you prefer Facebook or Twitter?
As of six months ago, I would've immediately said Facebook, but Twitter is really growing on me!  I like Facebook to look at photos, but other than that, I think I'm more of a Twitter fan.
5. What is your favorite pattern?
Paisley!
6. Do you prefer getting or giving presents?
I won't lie, I do enjoy the excitement of getting presents, but giving is so much more fulfilling to me.  I love when people light up when I give them something that they really want.
7. What is your favorite number?
I've never really had a favorite number, but when I played volleyball and basketball in high school, I always made sure to be #5.  So I guess I'll say 5.
8. What is your favorite day of the week?
Friday.  It's usually a pretty laid back day, and it's the start of the weekend!
9.  What is your favorite flower?
I've developed this new recent love for peonies.
[source]
10.  What's your passion?
Kind of a loaded question, but I'll go with it.  I would say my biggest passion is healthy living, fitness, and eating real/nutritious foods.  I would hope you can see that through this blog. 
  I also have a huge passion for children.  They just melt my heart, and I yearn to make an impact on kids as much as I can.
Lindsay nominated me for "The One Lovely Blog Award" recently as well.  Thanks Linds!
This award involves sharing seven facts about myself.  Well, I feel like you've already read enough facts about me above in the questions I answered, and if you're just dying to read more, you can read these.
I nominate whoever would like to take part in these fun little awards/surveys!  You are all lovely, and I appreciate each and every one of you!
June Yoga Challenge – Week 1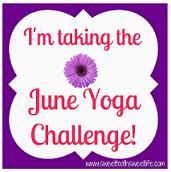 As I've mentioned in my "June Goals" post, I am taking part in the June Yoga Challenge this month.  Let's do a little recap on how I did with the first week!
My goal: Do yoga three times each week.
This week's actual:
It looks like I accomplished my goal for this week!  So far, I've really been enjoying this challenge I'm taking on.  When I initially decided to exercise less and eat more, I really wanted to include more yoga into my routine.  Ever since then, I've done okay with it, but I still wasn't doing it as much as I had hoped.
I've noticed that yoga naturally makes me feel more relaxed and in tune with my body.  While I was doing the yoga videos, there were several times when I realized that some of my muscles were super tight.  I never would've noticed this if it weren't for me doing yoga.
I'm looking forward to continue on with my challenge!  Thanks for starting this Courtney!
**EDITED TO ADD: I almost forgot!  The winner of the Gatorade G Series Energy Chews is Danielle @ Itsaharleyyylife!  Congratulations Danielle!  Email me at ashlw0304@yahoo.com with your shipping information to claim your prize.
Questions:
Answer any of the above ten questions!  I want to learn more about you too!

Are you taking on the June Yoga Challenge?  If so, how is it going for you so far?