It is Friday!  Hallelujah!  I don't know how that happened so quickly.  I swear this week has just flown by!
I have received quite a few questions lately about "how I am doing with everything" aka my struggles with Hypothalamic Amenorrhea (HA).  I am not going to go into every little detail here, because trust me, you wouldn't want to hear about them.  Instead I'll go through how things have changed within the past few months and how I'm currently feeling physically, mentally, and spiritually.  Ready?  Go!
Physically:
I haven't been weighing myself the last few months (SO freeing by the way!), but I'm guessing I've gained about 8-10 pounds based on how my clothes are fitting.  I gained most of the weight within the first few weeks of my lifestyle changes, and since then it has stabilized pretty well.
I've noticed most of my weight gain in my upper arms, badonkadonk, my "chest region", and my hips aren't lyin' these days.  Fortunately these are all places that estrogen is commonly held, so I'm okay with that because estrogen is what my body needs right now.
I'm feeling a little more "squishy" thanks to the little to no strength training I've been doing for the past few months.  Yoga has helped my "tone-age" a little, but it's nothing like I was doing before.
"Aunt Flow" has returned twice so far.  Woo hoo!  My second cycle was a little longer than average, but that is normal for a recovering "HA-er".
I am still aiming to eat 2000-2200 calories per day and continuing to keep my exercise mostly to walking and yoga.
Mentally/Emotionally:
I am currently feeling pretty good about things, but I'd be lying if I didn't say I have my hard days.
I really miss running and higher intensity workouts on a regular basis.
I feel content with how my body is right now because I know it's a sacrifice I have to make for something so much better, but I don't necessarily feel my best.
I get frustrated at times.  The whole "why me?!" thing goes through my head occasionally.
I am not nearly as stressed as I used to be.  Not having that pressure to eat so "perfectly" or get in a workout every day is so freeing.
I still worry at times if something else is going to go wrong, but that's just my "worry wart" personality at work.
I have more fun and am more carefree.  My husband says that I'm in a better mood more often than I used to be, and it's nice that I'm not stressing about that brownie I ate.
Spiritually:
I have just been in awe of what God has been teaching me through this whole ordeal.
I would have never thought that I'd be "thankful" for going through this, but what I'm learning and how I'm changing through it has caused me to be thankful to God for giving me that wake up call.
God is (slowly but surely) teaching me patience and to trust in Him more than I ever have before.
God has given me the opportunity to reach out and help other women that are going through what I am, and that in itself has been a huge blessing.
I have built new friendships with other women that I can relate to who are full of support, encouragement, and love.
I'm sure there's more I could add to these lists, but I think that's the jist of it.  These last few months have certainly been rough, but I wouldn't ever take them back.  As I've said, what I've learned about myself and the women that I have connected with through this ordeal has been such a blessing.  I'm just continuing to press on and hope for the best!  (Also, I plan on making a "Hypothalamic Amenorrhea" tab/page in the near future to serve as a central place to see all my posts regarding the issue.  Be on the look out for it!)
June Yoga Challenge – Week 2 Recap
Now that we have that all covered, let's recap my second week in the June Yoga Challenge!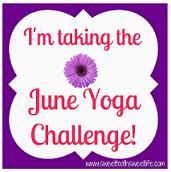 I didn't do as well this week as I had hoped.  Like I said at the beginning of this post, this week just flew right by me.  Before I know it, here we are and it's Friday when we're supposed to be recapping how we did with our yoga challenge.
Goal:
Do yoga three times per week.
Actual:
As you can see, I only got in yoga twice this past week rather than three times like I had hoped.  I do plan to get in a yoga session today, so I suppose that could count for three?!
I always love how I feel after a yoga session.  Whether I do yoga for 15 or 60 minutes, my body feels relaxed, less tense, and not as tight.  It really does do wonders mentally and physically!
Alright I'm leaving you with that.  My apologies for the wordy post, but hopefully it answered some of your questions!  I hope you have a wonderful day and a great weekend!