Growing up, I remember having those boxed Betty Crocker blueberry muffins for all sorts of occasions.  Sometimes we would have them for breakfast or sometimes they would be our "bread" at dinner.  Us kids loved those blueberry muffins.  We even got to help make them!
Back then I had no idea what was going on in those boxed muffin mixes.  I didn't care that there were ingredients in there that I didn't even know how to say or that the "blueberries" weren't really blueberries.  All I cared about was the fact that they tasted good!
I found myself reminiscing those beloved blueberry muffins the other day and decided to make my own healthier version of blueberry muffins that involved real ingredients.  I also wanted to try out some of the coconut flour and coconut oil that Swanson Vitamins graciously sent me.
Of course these muffins don't taste exactly the same as the good ol' boxed Betty Crocker muffins.  The subtle hint of coconut and banana that they have to them is unique but quite delicious if I do say so myself!
Coconut Banana Blueberry Muffins
Servings: 12 muffins
Prep Time: 10 minutes
Cook Time: 18 minutes
Ingredients:
1 cup whole wheat flour
1/4 cup coconut flour
1 teaspoon baking powder
1/4 teaspoon salt
25-30 drops of NuNaturals Vanilla Stevia (or 1/4 cup sweetener of choice)
1/4 cup coconut oil
2 eggs
1 large ripe banana
1/2 cup milk
1 cup blueberries
Directions:
Preheat oven to 350 degrees; spray a muffin pan with cooking spray and set aside.
Add the first four of the above ingredients to a mixing bowl and stir until well mixed.
Add the rest of the (wet) ingredients to the mixing bowl and use a mixer to blend it together well.
Pour batter into muffin pan and bake for about 18 minutes or until set.
Let muffins cool and enjoy!
Disclosure: I received these products for free from Swanson Vitamins and was not compensated for this post.  All opinions are 100% my own.
*********************************************************************************************
Next up, let's talk about how my third week of the June Yoga Challenge is going.  I can't believe we're already in our third week!  June is flying by!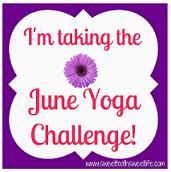 Goal: Complete 3 yoga sessions per week
Actual:
Day 1: Yoga Video (30 min) – Power Yoga
Day 2: Yoga Video (20 min) – Gentle Yoga
Day 3: Yoga Video (45 min) – Hatha Yoga Flow
All videos are from DoYogaWithMe.com, which I would recommend for those of you looking for some free yoga videos online!
Again, I found all three yoga sessions very beneficial to my mind and body.  On Day 3 (yesterday) I was feeling pretty stressed about some things, so I decided to do some yoga.  As I was doing the video, I could feel how tense my neck and back were.  By the time I had finished the video, I felt very relaxed and stretched out.  It's incredible what yoga can do for the mind and body if you really focus on it.
I know I will never be a pro yogi, but I sure do enjoy the mental and physical benefits it brings to my body!
Questions:
Did you eat muffins from a boxed mix growing up? 
What is your favorite kind of muffin?
Have you ever used coconut flour and/or coconut oil?