Well my friends, we just finished the last official week of the June Yoga Challenge!  Where did the time go?!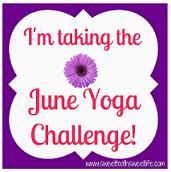 Let's first take a look at how I did this past week:
Goal: Do yoga three times per week
Actual:  I only ended up doing yoga twice this week.  No excuses here, I just didn't get to it as much as I would have liked.  One yoga session was a 20 minute yoga video on Hulu, and the other one was a 45 minute gentle yoga video I found on Netflix.
I first just want to say how glad I am that Courtney started this challenge and that I decided to get involved.  It's been so good for me to challenge my mind and body in new ways!  Yoga is one of those things that I often put on the back burner, and this challenge helped me make it more of a priority.
[source]
This challenge also helped me realize even more how much I actually do enjoy yoga when I go into it with the right attitude and mindset.  I definitely believe having the right attitude and mindset going into it is what makes all the difference.  When I used to try yoga, I always went into it with a negative attitude and more of a "I have to do this" kind of mentality.  Of course I left not liking it!  Now I remind myself of all the positive benefits that yoga leaves me with, and I leave my yoga sessions feeling relaxed, less tense, and happy!
[source]
I did learn from this challenge that doing yoga three times per week might be a little too much for me.  I think twice a week is perfect for me – that way I can still get in some quality walks without feeling overwhelmed.
Thank you, Courtney, for hosting this fun little yoga challenge!  I would encourage those of you that haven't tried yoga to give it a shot!  And those of you that have had negative experiences with it in the past, I challenge you to give it another chance while going into with more of a positive mindset.  I promise that attitude shift makes a world of a difference!
Questions:
Did you take the June Yoga Challenge?  How did it go?
Are you a yoga fan?  Why or why not?