You had to know this one was coming – WIAW (What I Ate Wednesday) Instagram Style.  You know I love my Instagram.  It sure doesn't feel like a Wednesday today, does it?  4th of July sure is a tricky one this year.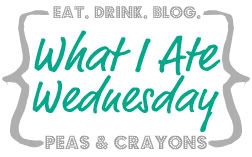 breakfast – 7:00 AM
Overnight Oats: 1/3 cup oats, 1/2 cup greek yogurt, 1/3 cup milk, 1/2 tablespoon chia seeds all in the fridge overnight.  Blueberries, NuNaturals Vanilla Liquid Stevia, and almond butter added in the morning.
mid morning snack – 10:00 AM
Clif Bar's KIT's ORGANIC Fruit & Nut Bar
These things are GOOD.  The idea of them reminds me of a Larabar because they are made with minimal ingredients, and they primarily use dates and nuts.  Try these if you haven't already!
lunch – 2:00 PM
Turkey, avocado, tomato, spinach, and mustard on a whole wheat english muffin with a peach on the side.  A spoonful of almond butter was also consumed that wasn't photographed.
dinner – 6:00 PM
Grandma Haan's Casserole (spin-off of a shepherd's pie)  with a spinach and tomato side salad that went unphotographed.  Trust me, it's not the most picturesque meal anyways, but it sure did taste delicious!
dessert – 8:00 PM
Chocolate chip cookie dough ice cream with a scoop of PBCrave Choco Choco Peanut Butter.  Excellent combo by the way!
snack – 10:00 PM
Barbara's Bakery Chocolate and Peanut Butter Puffins with milk
I don't usually eat this late, but I'm thinking I didn't eat enough throughout the day because I found myself feeling hungry before I went to bed.  These Chocolate and Peanut Butter Puffins are good, but I think I'm still more of a fan of the good ol' plain Peanut Butter Puffins.
H
a
p
p
y
F
o
u
r
t
h
o
f
J
u
l
y
!
!
I hope you all enjoy the day with family and friends in honor of our country and those that serve.  Please be safe!
Questions:
Have you tried Barbara's Bakery Puffins cereal?  If so, what is your favorite kind?

What are your plans for the holiday today?!