Hello!
Here we are with another What I Ate Wednesday post thanks to the fabulous Jenn!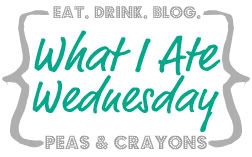 WIAW is going to be a little different around here today… I'm going to talk type at you about some of my thoughts revolving around my eating habits lately with my eats from yesterday interspersed throughout, mmkay? Here we go!
Something I'm finally coming to terms with now that I'm about half way through my pregnancy is finding a balance when it comes to eating. My first trimester wasn't pretty – literally and figuratively. I didn't feel well, my appetite was pretty much nonexistent, and there was a lot of white and very little green in my meals.
**********
My breakfast of choice was this oatmeal:
1/3 cup oats
1/2 tablespoon chia seed
1 egg (whisked in while oats cook)
1/2 chopped apple
1/2-1 teaspoon cinnamon
topped with almond butter
**********
Then came my second trimester when I started to feel a lot better, my taste buds were starting to return back to normal, and I pretty much wanted to eat everything in sight. Not only was my body needing the extra calories, but my taste buds were craving flavor and the delicious foods they missed out on for a couple months.
**********
My morning snack was half of a sliced banana with a big spoonful of peanut butter.
**********
Unfortunately I let my taste buds win the majority of the time for a few weeks there and probably ate a few too many desserts, spoonfuls of Biscoff spread, and French fries. I remember telling myself at the beginning of my pregnancy that I would not be one of those pregnant women that gave myself permission to eat unhealthy or extra large portion sizes because I was "eating for two". Yes, I am in fact eating for two, but it does not mean I'm eating for two adult humans. It does mean that I need a healthy amount of calories plus only about 300 extra per day for the little babe growing inside of me.
**********
Lunch was Amy's Organic Creamy Tomato Soup with half of a grilled mozzarella cheese sandwich for dipping. I LOVE this soup! It's one of the best canned soups I've ever tried.
**********
Even though I've been trying to be more mindful of what I've been eating the last few weeks, I also don't want to become obsessive. There is a fine line between these two that I find myself teetering on at times. I want to make sure I'm giving my baby and my body the nutrients it needs, but I also want to occasionally enjoy the goodness of a brownie without feeling guilty.
**********
I couldn't stop thinking about cereal when my stomach started to rumble mid afternoon, so that's exactly what I had – Vanilla Almond Special K. This is a new-to-me cereal, and even though the nutrition stats aren't the best, it sure is tasty!
**********
I've been striving to figure out this balance by doing my best to follow these "rules":
Intuitive eating – eat when I'm hungry and stop when I'm full
Focus on eating nutrient dense foods that I love
Honor my cravings
DON'T try to eat perfectly – it won't happen
Treat a treat as a treat!
**********
Dinner was this recipe and it was delicious! It's super easy to throw together, makes your house smell fantastic, and is tasty to boot.
**********
I think the above "rules" can apply to anyone, pregnant or not. Finding that healthy balance isn't always easy, but it's key to maintaining a healthy lifestyle and that is a priority to me.
**********
Last but certainly not least was the snicker doodle from my dear husband! He had a meeting at Paradise Bakery today where they have the best cookies in the whole world so he brought one home for me. I always eat the outer edges first and then save the best for last – the center where it's soft and chewy. Yum!
**********
Questions:
Do you ever have a difficult time finding the balance between being mindful and obsessive?

What is your favorite kind of cookie? (Mine is a toss up between chocolate chip, peanut butter, and snicker doodle. It depends who makes them.)