Happy Wednesday!
Thank you so much for all of your sweet comments on yesterday's post. We are so in love with Hunter already!
Other than our exciting news, yesterday was pretty low key. I didn't have to substitute or work at church, so I used it as a catch up day to get laundry done, work on blog stuff, and got some other random things done I've been meaning to do since we had family in town most of last week. Yesterday wasn't anything too special on the eating front either… Lots of leftovers, but they sure were tasty! Let's take a look!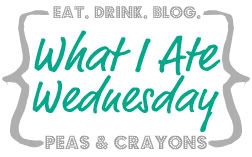 breakfast – 5:30 AM
Breakfast was an early one thanks to some pregnancy insomnia coupled with waking up to a rumbling tummy at 5 AM. I rolled out of bed, took some time to wake up and figure out what I wanted to eat, and headed to the kitchen to make myself some Kodiak Cakes. I smashed half of a ripe banana into the batter and added a few shakes of cinnamon to it, and then cooked the pancakes in coconut oil.
Ohhh my, why have I never cooked pancakes in coconut oil before? It gives them a hint of coconut-y sweetness and makes the edges a little crispy. I then added a thin smear of peanut butter on top and drizzled them with some light maple syrup. SO GOOD.
mid morning snack – 9:30 AM
Our doctor's appointment was at 8:30 AM, so by the time we got home around 9:30 I was starving! I had a couple leftover deviled eggs from Thanksgiving pretty much as soon as I walked in the door. I love these things.
Most of the rest of the morning was spent talking to parents, family, and friends about our big news. I also read a few blogs, threw in a couple loads of laundry, and before I knew it I was hungry again.
lunch – 11:15 AM
An early wake up which meant an early breakfast called for an early lunch. All I wanted was peanut butter, so peanut butter it was! I layered the peanut butter on thick to some wheat toast, added half of a sliced banana, and sprinkled some chia seed on top. One of my favorites! I also had a small mug of milk to wash it down.
I snacked on a few of these as well… They have that sweet 'n salty thing going on, and I love them.
I rounded off lunch with a handful of baby carrots for good measure.
I worked on some blog stuff and made a dent in my email inbox (if you still haven't heard a response from me, I promise it's coming soon!) for a couple hours until my stomach started rumbling again.
snack #1 – 1:30 PM
I wanted to get in some greens, so I went for Julie's Cocoa Overload Green Monster. It was a monster indeed and left my belly feeling nice and full! It wasn't a pretty thing, but it sure was tasty!
I folded and put away the massive laundry pile that has been staring me down the last few days (thank goodness it's all done!), ran to the bank and post office, and did some editing to our baby registry.
snack #2 – 4:00 PM
Those chocolate tortilla chips kept calling my name, so I had a handful dipped in some peanut butter. Let me tell you, it was an excellent choice.
After my little snack break, it was time to address some Christmas cards. I got them last week, and I'm so excited about them! Excited about addressing them? Notsomuch. I got on a roll and almost finished them though so I was pretty proud!
dinner – 6:30 PM
Dinner was leftovers… Are you surprised?
My stepdad brought us some of his amazingly delicious smoked pulled pork when they came out to visit, so we enjoyed pulled pork sandwiches with veggies. I added a slice of melted pepper jack cheese to my sandwich which made it even better. I also had some leftover green bean casserole from Thanksgiving and some steamed mixed veggies.
Cody and I spent a good hour at the dinner table talking about all things baby Hunter. We talked about our registry, what our little man could look like, what traits we hope he does and doesn't get from each of us, how our families reacted to the news, etc. It was so fun! That little boy is going to be loved so much!
dessert/snack – 8:00 PM
My go-to evening snack almost every single night since Thanksgiving has been a piece of pumpkin pie. My stepdad and I were the only ones that liked pumpkin pie when my family was here so we have a ton leftover and now I have it all to myself. I am one happy girl! Topped with a little whipped cream of course!
We enjoyed a couple episodes of Parenthood before I started to fall asleep on the couch, and then it was time for bed! We are loving that show by the way! It's a cute one, and I'd definitely recommend it if you're looking for something new to watch.
I hope you all have a lovely day!
Questions:
What are some of your favorite sweet 'n salty combos?

Do you still have leftovers from last week?

If you have kids, what traits do they get from you (looks & personality!)? If you don't have kids, what do you think your kids will be/look like?