Yesterday was just "one of those days"…
We all have them, but they're still pretty sucky regardless. After just feeling "blah" when I woke up, substituting a sixth grade class that knew how to push my buttons all day, and dealing with some fun family drama while figuring out Christmas plans, I was more than ready for yesterday to be over. Not to mention those awesome pregnancy hormones that make me cry at the drop of a hat lately… Let's just say it isn't pretty when you add all of that up.
Thank goodness for patient and supportive husbands that give really good hugs. They can make any "bad day" at least turn better.
Oh, and comfort food does wonders too. It's called comfort food for a reason, right? At the end of a long day like yesterday, all I wanted was easy comfort food for dinner.
First, it was pasta, then it was pizza, then it was chicken pot pie, and then it somehow turned into chicken pot pie pizza. Whaaaat? <—That's how my husband responded. I told him not to ask any questions and to just eat. He followed my directions and was pleasantly surprised, as was I. Don't ask how I got this idea of a recipe in my head, but it worked quite well if I do say so myself.
Comfort food? Check. Easy? Check. Delicious? CHECK.
Chicken Pot Pie Pizza
Servings: 1 large pizza (about 8 slices)
Prep Time: ~15 minutes
Cook Time: 10-12 minutes
Ingredients:
Whole wheat pizza dough (store bought or homemade – I used this recipe)
2 boneless skinless chicken breasts, cut into bite size pieces
1/2 tablespoon McCormick Montreal Chicken Seasoning (or other favorite chicken seasonings)
3/4 – 1 cup frozen mixed veggies (I used peas, carrots, corn, & green beans)
1 can low sodium fat free cream of chicken soup
1 cup shredded mozzarella cheese
1/2 cup shredded cheddar cheese
Directions:
Preheat oven to temperature listed on pizza dough directions
Prepare pizza dough according to directions and set aside
Cook chicken and seasoning in a skillet on the stovetop
Add frozen mixed veggies to skillet with chicken and seasoning
Pour soup into skillet with chicken and veggies; cook until heated through
Top pizza dough with soup, chicken, and veggie mixture and sprinkle with cheese
Bake pizza in oven according to the time listed on the pizza dough instructions
Let cool, slice, and enjoy!
Oh yeah, and this recipe was my WIAW contribution for the day. The rest of my meals and snacks didn't exactly get photographed, but you got the best one and that's all that matters, right?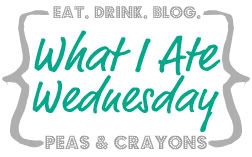 Questions:
How do you deal when you have "one of those days"?
What are some of your "unusual" recipe inventions?