How was everyone's New Year's Day?!
Ours was pretty darn productive if I do say so myself. The day was a perfect way to kick off the New Year, and I'm so proud of what we got accomplished. We eased into the day, relaxed a bit, and ate a leisurely breakfast before getting to work on things around 9:30 AM.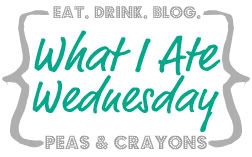 My taste buds haven't been all there the last few days thanks to this fantastic head cold I've been rocking, so I went with a simple breakfast of peanut butter, banana slices, and chia seed on wheat toast.
I also had a small glass of Tropicana Trop50 Orange Juice for some extra Vitamin C. I didn't know what to expect with this OJ, but I was quite impressed! I'll definitely be buying it again in the future.
We spent about an hour taking down the Christmas tree and other Christmas décor around the house. As much as I love Christmas, it's nice to have our house back to normal now. Somewhere in there I had an orange too. It was so flavorful and juicy!
I got right to work on one of my resolutions and started cleaning out the pantry. I threw away random items and expired food, reorganized the shelves, and added a hook for my aprons. Ahhh SO much better!
Next I moved onto the junk room office and started clearing it out to make room for baby Hunter's nursery. We packed up all of the books, got rid of our bookshelf, and brought a bunch of random boxes down to the basement. I can't believe how much junk this room accumulated! We also plan to get rid of the desk and chair in the next week or two. I wish I had a "before" photo to show you, but we made a lot of progress in this room yesterday. Woo hoo!
We took a break somewhere in there to eat lunch. I had a fajita style omelet with peppers, onions, and cheese and a side of cooked artichokes. It hit the spot!
After lunch I did some random chores around the house that I never really think about doing – cleaning off the top of the refrigerator, dusting items on top of our kitchen cabinets, etc. We relaxed a bit and then headed out to run a few errands. Our first stop was Hobby Lobby to get this wall coat hanger to put in our entry way. It's something I've wanted to get for awhile now to put coats and purses on. I love it!
After Hobby Lobby we made a pit stop at Starbucks to get a couple hot drinks since the highs were in the low 20s (ew!). Cody got a hot chocolate, and I got a decaf misto with a pump of hazelnut. I've never tried the misto before, but I'm definitely a fan. It's half coffee-half milk and is just like a latte except almost half the price. Sold!
Our final stop was Home Depot to pick out some paint colors for the nursery and our bedroom. We didn't actually buy the paint, but it was fun to get some samples to bring home. Hopefully we'll be painting in the next couple weeks!
By the time we got home, I was a little hungry so I had a spoonful of sunflower seed butter and washed it down with a small glass of milk. Mmm love this stuff!
I helped Cody hang the coat hanger, did some laundry, and dinked around on my laptop for a bit before getting dinner together. I've been wanting to try Courtney's Skinny Chicken & Broccoli Alfredo for awhile now, and I finally made it happen last night. I followed her directions exactly except I used whole wheat linguini instead of fettuccini and mozzarella cheese instead of parmesan. It turned out super tasty, and Cody was a big fan.
I finished off dinner with a Trader Joe's Salted Dark Chocolate Peanut Butter Caramel Truffle. Ohhh my, I can't get enough of these babies. So much goodness in such a little bite!
After dinner, Cody played his new Playstation 3 while I caught up on some blog stuff. I had a spoonful of Justin's Vanilla Almond Butter before I headed to bed to read The Happiness Project for awhile and then fell fast asleep.
Now I'm just crossing my fingers that this cold leaves me for good in the next day or two! See ya later for a pregnancy post!
Questions:
What was your New Year's Day like?
What is your go-to Starbucks drink?