Hi guys! How was the weekend?
Ours was pretty chill, but still fun and productive at the same time. The highlights:
-Café Rio Chicken & Black Bean Salad
-Great conversation and lots of laughs with Annette and her husband
[Apparently I was cracking up at something?! Haha.]
[Love this girl!]
-Sweaty treadmill walk
-Sorting through Baby Hunter's clothes, washing them, and organizing them – he's going to be so stinkin' cute!
**************************
I sat down last night, like I do most Sunday evenings, and planned out our dinners for the week. I never plan out our breakfasts or lunches since those are typically leftovers or basic staples we always have on hand. However, I do like to have a plan with our dinners to help make my grocery shopping a little easier. I also like to put a little more energy and thinking into our dinners to try new recipes and not get stuck in a rut with the same meals. After making this week's meal plan, I realized I had to share it with you guys! I have a few new recipes on the menu that I've recently found and am super excited to try out. Most of them are ones I found on Pinterest or various blogs. Let's take a look!
Monday: Chicken, Sweet Potato, & Spinach Quesadillas
I saw these on Courtney's blog quite awhile back and have been meaning to try them for months now. They sound unique, delicious, and super easy to make!
[photo by Courtney]
Tuesday: Wing It!
We usually have a "wing it" night at least once a week. Cody gets home a little later from work on Tuesdays, so I figured it'd be a good night to do leftovers, a sandwich, or even a bowl of cereal. Who knows!
Wednesday: Breakfast for dinner
This is always a favorite in our house. We usually go with either waffles and/or an egg scramble of some sort. It's a guaranteed easy, cheap, and delicious meal.
Thursday: Grandma Haan's Casserole
This was a favorite of mine that my mom would regularly make growing up. It's essentially Shepherd's Pie with a little twist to it. It makes for a fairly healthy comfort food dish and is super simple too!
Friday: Avocado Chicken Parmigiana
I found this one on Pinterest and immediately knew I would be making it when I saw that cheese and avocado were involved. I can't wait to try this one!
[Photo by Cuisine Paradise]
Saturday: Cauliflower Crust Pizza
I've tried cauliflower crust a few times in the past, but I've never tried this particular recipe. It's been awhile since I've made it, so I'm looking forward to it! I'm thinking of doing chicken sausage and various veggies with cheese for toppings.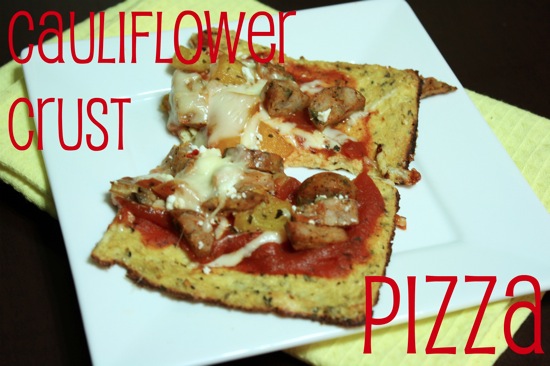 [photo by Janetha]
Sunday: Leftovers
We typically have a bigger lunch on Sundays so leftovers are usually our go-to Sunday dinners. It works out well so we can clean out the fridge a bit from the week!
Hopefully this will give you some ideas for your own dinners this week! I'd love to hear your feedback if you've tried any of the above recipes too.
Have a great Monday!
Questions:
Do you meal plan or just go with the flow?

What are some recipes or meals that you're planning on making this week?