Hey hey! How is everyone today?!
I don't know about you, but I'm pretty stoked it's Friday. It wasn't my favorite week ever due to Cody being gone at the beginning/middle of it, and then the weather just hasn't been my thing. Did I mention that my usual 30 minute commute to work yesterday took TWO HOURS? I'm not even exaggerating. We had this awesome "freezing rain" (what the heck?!) that made the roads freeze over and there were cars going everywhere. It was ridiculous, not to mention super scary. Needless to say, I'm glad our little family is all safe and that we can have a nice cozy weekend at home.
I've seen this fun little survey floating around for awhile now, so of course I had to jump on it and do it myself. Plus, I know we're all secretly a little nosy, so why not, right?
Currently…
Current Book(s):
I've been reading The Happiest Baby On the Block the last couple weeks and have been learning so much! I really hope the author's techniques hold true for Baby Hunter. Next book on the list is Gone Girl by Gillian Flynn. I got it for Christmas and have heard nothing but great things about it!
Current Music:
I'm currently listening to Colby Caillat Radio on Pandora. It's one of my favorites when I'm relaxing, writing, and/or working.
Current Guilty Pleasure:
Petting our dogs' big soft ears. Ahh I just love them! I have a weird love for anything soft – blankets, stuffed animals, skin, etc. Cody says I'm going to rub Baby Hunter's skin raw because I love soft skin so much. Ha!
Current Nail Color:
Nada! I've been meaning to paint them but just haven't got around to it lately. Maybe it'll happen this weekend?
Current Drink:
Water, water, and more water. I'm constantly thirsty these days, and water has been my drink of choice!
Current Food:
I'm not currently eating anything, but I've been loving peanut butter and jelly sandwiches the last few days! I just bought this new blackberry fruit spread the other day, and I've been eating it with crunchy peanut butter on wheat toast. So good!
Current Favorite Show:
Cody and I aren't really big TV people so we only have Netflix, but I've been watching Brothers & Sisters on Netflix and The Bachelor on ABC.com.
Current Wish List:
To be on a beach sipping on tropical drinks and basking in the sunshine. That's really all I want at the moment.
Current Needs:
Currently I need FOOD. My belly is growling at me. I just need to figure out what it is that I want…
Current Bane of My Existence:
Heartburn! Ugh, it is no fun.
Current Celebrity Crush:
Ryan Reynolds obviously. Oh, and please tell me there's a slight resemblance? I swear they have the same eyes, nose, and a similar smile. Cody doesn't believe me.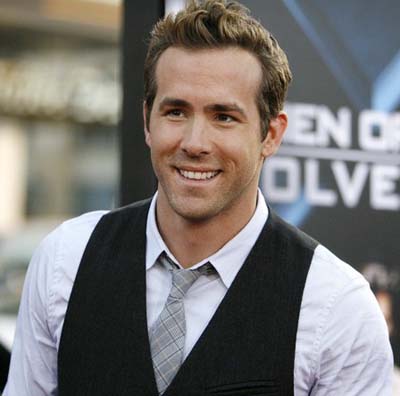 Current Indulgence:
Trader Joe's Salted Dark Chocolate Peanut Butter Caramel Truffles. They may not look like much from the outside, but they are all sorts of goodness on the inside. I think I "oooh and ahhh" every time I eat one.
Current Blessing:
Our little one currently having quite the dance party in my belly. It makes me smile every time!
Current Slang:
Hmm good question. I don't use slang much that I'm aware of!
Current Outfit:
Pajamas! Heck yes!
Current Excitement:
It's almost the freakin' weekend baby! Woo hoo!
Current Mood:
Content
Current Link:
I have Pandora, Twitter, and Annette's blog (to get the survey questions) open in my browser.
Questions:
What are some of your "currents"?
Any fun plans for this weekend?