Good morning!
Let's talk some food today, shall we?! Food is one of my favorite things after all.
We'll cover my eats from yesterday in honor of What I Ate Wednesday (aka WIAW).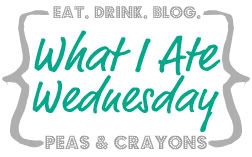 I tell ya, yesterday was a whirlwind of a day! I felt like I blinked and it was suddenly nighttime. I don't know how it happened, but I still managed to get in some tasty meals and snacks so let's take a look!
breakfast – 7:30 AM
I had a sudden craving for some sort of banana bread Sunday evening, so I turned to one of the recipes I've been wanting to try and made this Fluffy Flax, Fruit, & Veggie Bread in muffin form. Oh my gosh. It's my new favorite quick bread recipe for sure. I froze half of the muffins for when Hunter gets here, but we plowed through the rest of them these last few days. Needless to say, I had two for breakfast yesterday morning – one topped with some real butter and the other topped with natural crunchy peanut butter. Oh, and a mug of milk to wash it down. Yum. I'm wondering if the ones I froze will make it until Hunter gets here…
mid morning snack – 10:00 AM
My breakfast wasn't super protein packed, so I was pretty hungry just a couple hours later. I had a small bowl of Kashi Go Lean Crunch topped with strawberries and milk. A satisfying snack indeed!
lunch – 12:30 PM
I had a leftover Portabello Mushroom Wrap from dinner the night before with a side of two clementines. These wraps are darn tasty! I used P28 Flatbread Wraps that are packed with extra protein making these wraps pretty filling too.
snack – 3:30 PM
I was hangry by the time I got home from running some errands, so I went for one of my favorite easy snacks – a banana and peanut butter.
dinner – 7:00 PM
Quick side note… Has anyone else been eating dinner a little later since the the time change? I used to have dinner on the table by about 6 PM, but the last couple weeks it seems like it's been closer to the 7:00 hour.
So let me just tell you, this dinner I'm about to share has to be one of the easiest, yet tastiest, dinners ever. I pretty much just threw a few things in a skillet and hoped it would turn out, and turn out it did! Cody and I were both big fans of this meal!
Chicken Sausage, Squash, & Quinoa Skillet
Servings: About 4-6
Prep Time: 10 minutes
Cook Time: 15-20 minutes
Ingredients:
1 box Near East Roasted Red Pepper & Basil Quinoa Blend
1 acorn squash (butternut would work well too)

4 apple chicken sausage links, chopped into bite size pieces

1/2 teaspoon garlic powder

1/4 teaspoon salt

1/4 teaspoon black pepper
Directions:
Cook quinoa brown rice blend according to directions on box.

While quinoa brown rice blend is cooking, peel and chop acorn squash into bite size pieces.

Add squash and chicken sausage to skillet. Cook on medium until squash is soft and chicken sausage is cooked through.

Add quinoa brown rice blend, garlic powder, salt, and pepper to skillet with squash and chicken sausage. Stir it all together.

Pour a little water into the skillet and cover. Let cook on medium-low for about 5 minutes.

Serve and enjoy!
This easy and delicious meal will definitely be a repeat in our house!
Surprisingly, I didn't have an evening snack other than a small handful of dark chocolate chips. My appetite has been all over the place lately. Oh well, I just roll with it!
Questions:
What's one of your favorite super easy dinners?

Do you tend to follow recipes or just throw ingredients together?