It's WEDNESDAY! Sweet, right?! Especially when it feels like a Tuesday. Three day weekends are pretty awesome like that.
Wednesday = What I Ate Wednesday (WIAW), so let's get to it!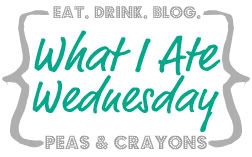 My eats were kind of all over the place yesterday. I had a lot of little snacks here and there to get me through the day since I was out running errands through lunch time, and the snacks just kind of continued as the day went on. Oh, and there was quite a bit of chocolate… I was feeling pretty tired yesterday after a weekend full of activities and late nights. I seem to always crave chocolate (and sweets in general) when I'm tired. Not something I'm exactly proud of, but hey, sometimes it happens, right?
breakfast
Breakfast was nothing new. One of these days I'll start a new breakfast phase, but for now, it's still my favorite protein filled cereal.
morning snack
Same little cookie dough combo as last week. My sister tried a little bite this past weekend, and she said she thought it tasted like peanut butter cookie dough. I'd say that's pretty spot on!
lunch
Like I said, lunch was a combination of snacks, so it was eaten in three parts. As we were heading out the door, I drank a smoothie. I like to call it my "PB&J Smoothie" because it tastes just like one! In the smoothie went half of a frozen banana, a few frozen strawberries, spinach, half a scoop of peanut butter protein powder, a spoonful of peanut butter, and unsweetened vanilla almond milk. It's one of my new favorite smoothie combos!
As I was out, I noticed my favorite ALT Larabar at the grocery store. I haven't seen these many places, so I was excited about it and grabbed one for the road as I was out doing a few other errands.
When I got home, I munched on a couple handfuls of these dried green beans from Trader Joe's. Chelsey turned me on to these awhile back, and they're always on my list of things to get when I go to TJ's.
mid afternoon snack
CHOBANI! Haven't seen much yogurt around these parts lately, huh? I notice I go in phases with yogurt. I was craving it again and it was on sale at our grocery store for $1/container so I grabbed a few. This was my first time trying the apricot flavor, and it's probably one of my new favorites! I topped it with a few raspberries – yum!
–> chocolate craving here <–
It was about 4 PM, I was feeling tired, and the Cocoa Almond Spread I got from Trader Joe's was sitting in my pantry calling my name. I answered, and had a couple spoonfuls. Mmmm it tasted so good. It reminds me of Nutella – I love it. It never lasts long in our house!
dinner
I made this Polenta Pesto Lasagna for the first time, and Cody and I both really liked it! It's suuuuper easy too. I try to make 1-2 vegetarian dinners per week for health and budget reasons. This is one of my new favorite vegetarian options! I plan to write a post on this topic in the near future, so be on the lookout for it!
dessert
You guessed it… More chocolate. I had a few squares of this dark chocolate from Trader Joe's. Wowee, is this chocolate rich and amazing. Trader Joe's knows what's up when it comes to chocolate (and pretty much everything else for that matter).
I hope you guys have a great day!
Do you crave sweets/chocolate when you're tired? What's your favorite Chobani flavor? How often do you have vegetarian meals?