Where in the world is this week going?!
We are leaving for Arizona tomorrow, and I feel like I still have a bazillion things to do. Ahhhh.
*deep breath*
OK, freak out moment is over. For now.
Let's talk about food because that always makes me feel better. Sound good?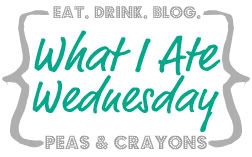 It's What I Ate Wednesday (WIAW) where I get to showcase everything I shoveled into my mouth yesterday. This is not to compare or judge my (or anyone else's) food choices, but to give each other ideas and recipes for meals and snacks. It also gives you a little "peek" into an area of my day that I don't talk about on a daily basis. So there ya go.
breakfast
This (topped with raspberries). 'Nuf said.
morning snack
I had an Apple Chunk Protein Muffin topped with peanut butter. If you're looking for a good breakfast/snack idea, MAKE THESE! They're so yummy and super easy. Sorry for the blurry photo, but there it is.
lunch
One of my good friends and her daughter came over for a little lunch date, so I made us minestrone soup and Cheesy Italian Quick Bread (<—one of my favorites! It's a great one to pair with soup or chili). I made a massive pot of the soup to heat up for leftovers throughout the week, and it turned out great! I kind of followed this recipe for the soup, but put my own twist on it too.
snack
I was really craving chocolate come mid afternoon, so naturally I had some! I had a handful of chocolate chips along with a spoonful of peanut butter to satisfy me until dinner.
dinner
Dinner was Taco Pasta Skillet. Forgot to snap a photo, but it looked pretty much exactly like the photo in the link. This was the first time I've made this particular recipe, and if I'm being honest, it was just OK. I would make it again, but I wouldn't chalk it up to one of my favorite meals.
dessert
Dessert was easily the highlight of my day! After Hunter went to bed, I went out with a couple girlfriends to grab some frozen yogurt at one of my all time favorite frozen yogurt places – Golden Spoon! They're all over California, so I went a ton in college, but just recently discovered they now have one here in Utah – YAY! I got half cupcake and half peanut butter frozen yogurt topped with Reese's chunks, Butterfinger crumbles, and cookie dough chunks. It was every bit of amazing.
We chatted and laughed the night away, and it was wonderful. So thankful for these girls. <3
We have laundry (lots of it), cleaning the house (I hate coming home from a trip to a dirty house – anyone else?!), packing (ugh), and a haircut for me (yay!) on the agenda for today. Hopefully we'll fit in a nice walk somewhere in there too – the weather has been so beautiful this week!
Hope you guys have a great day!
What's your all time favorite frozen yogurt place?
Tell me what your perfect cup of frozen yogurt looks like!
What's on your agenda for today?