Dude.
This half marathon training (+ nursing) business is already making me one hungry beast! I "officially" started my training yesterday with a Pump Class and a 2 mile run. It went great, but I swear I was eating all.day.long. I've been regularly going to Pump Class 2-3 times per week, and I typically notice I'm hungrier on those days, but I was even more hungry yesterday. Those 2 miles must've pushed me over the edge!
Speaking of half marathon training, I sincerely want to thank each of you for your encouraging and supportive comments yesterday! They all meant so much to me. I also appreciate all of your advice regarding my training plan. I decided to change up a couple things based on some of your suggestions. I'm going to nix my Monday spin workout in favor of a shorter run, and I'm also going to do more of a gradual climb of miles for my long runs. Another FYI: I technically have ten weeks until race day, so I plan to use one week as a "buffer" in case I have a bad week and another week as a tapering week right before my half.
My updated training plan:
So anyways, back to the eating thing.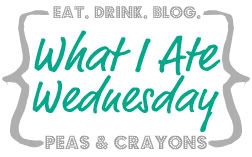 Breakfast was my usual oatmeal with peanut butter stirred in and topped with defrosted mixed berries. I know, my breakfasts are always so exciting, right?
Recycled photo – no more Christmas tree!
After I did my devotions, drank my coffee, nursed Hunter, and got us both dressed, we headed out the door to the gym. We were late, per usual. I really don't know how this happens every single week, but it's something I really want to work on. I always miss a big chunk of the legs portion of our Pump Class, and that's one of my favorite parts!
We got home, and I fed Hunter some solids (baby oatmeal + pears to be exact!), and laid him down for his morning nap. Naps are getting to be much better these days – thank goodness! That last "Wonder Week" was a rough one! I also grabbed a quick protein packed snack of plain Greek yogurt with Designer Whey Strawberry Protein Powder stirred in and topped with salted almonds. This is my new favorite snack – protein packed, low in sugar, and yummy!
I used his nap time to shower, get ready for the day, clean up the house a bit, and eat lunch. Lunch was leftover quiche (look for the recipe some time next week),
and a slice of wheat toast spread with salted sweet cream butter (my fav!).
By the time all was said and done, it was time to wake him up and head out the door again. We were meeting one of my good friends for coffee to just catch up and chat. It was so great to spend some time with her.
We made it home in time for Hunter's afternoon nap, and I suddenly just felt exhausted. I've had this pesky little head cold, and the weather was dreary, so I'm blaming it on those two things. I did something I rarely ever do during the week – plopped on the couch and pretty much did nothing for an hour. This included browsing Pinterest, Instagram, blogs, and just laying there. It was pretty much perfect and just what I needed. Somewhere in there I snacked on a couple clementines.
And then shortly after, I was feeling carbs + peanut butter, so I went for it. Oatmeal with a big spoonful of peanut butter did the trick!
I decided to get my butt back in gear and returned some emails and worked on some church stuff. Shortly after, Hunter woke up so I nursed him, and we played on the floor for a bit. Let me just say, the boy is cruisin'! He is so close to crawling, it's not even funny. He starts trying to crawl, and then you can tell he is thinking, "Ah, screw it, rolling is faster." It makes me laugh every time!
I let Hunter have some independent play time while I worked on cleaning the bathrooms and folding some laundry.
We played some more, and then it was time to feed Hunter some solids and work on dinner. He nibbled on some peas and bell pepper while I worked on making Cranberry Kale Turkey Burgers for dinner. (Thanks for the recipe, Katie!
) The only change I made was substituting goat cheese for bleu cheese. Yummm. They were so good!
Cody came home, we put Hunter to bed, and then enjoyed our dinner while catching up on our days.
The rest of the evening was spent blogging, watching How I Met Your Mother (our new Netflix show!), and reading.
Oh, and how can I forget? Eating, of course. Remember that mug brownie I told you all about last week? That's been a nightly thing … it's just so, so, so good. Topped with peanut butter made it even more decadent and wonderful.
I just realized I eat a lot of food out of mugs. Anyone else?
P.S. I'm really trying to get a little better at this whole photography thing. I don't think it'll ever be a huge hobby of mine, but I would like my photos to at least look decent. My main struggle is when it's dark outside. Any tips you guys have?! I know a light box is an option, but I'm not sure I want to have to deal with all of that. Would love to hear some of your tips!
Do you notice an increase in your appetite when you're training for a longer race?
I need some healthy snack ideas! I feel bored with everything. Help?!
What TV show(s) are you watching lately?
Do you have a daily/nightly dessert that you like to enjoy?