Apparently I'm still in 2013 over here, you guys! I keep putting "2013" on my posts lately. Thanks for the catch on that. Hopefully I'll get the hang of the fact that it's 2014 before December.
Just a random photo to break up some of the words
On Saturday I completed my first "long run" for my half marathon training – 4 miles! It's funny because some people think of that as a "piece-of-cake-no-big-deal-kinda-run", but it was a big achievement for me considering I've placed running on the back burner for the last couple years. Thanks for celebrating in my successes! Y'all are the best.
I felt pretty great throughout my entire run, except I noticed that my left hip started bothering me a bit during my last half mile. I figured it was nothing, so I finished up my run, and made a point of stretching my hip flexors really well afterward. It felt mostly fine, but I noticed some pain again later in the day and throughout the rest of the weekend.
I immediately started feeling anxious and frustrated about it all. I feel like I've done a really good job at building things up slowly and keeping up with my strength training the past several months, so I didn't understand why this was happening.
I decided to do some research on it, and discovered that it was most likely Trochanteric bursitis. (Of course I'm no doctor, but this is my most reasonable conclusion after evaluating my symptoms and reading into it.) I felt a little discouraged at first, especially considering this happened only after a four mile run! But then I quickly reminded myself to be grateful that it's not anything worse. It sounds like it can be treated with some TLC, stretching, foam rolling, and booty/hip strengthening exercises.
So, I dug into my personal trainer brain and come up with some hip and booty strengthening exercises to work on these next few weeks. (I plan to still do my runs but will be extra careful and will be taking them slower if my hip is bothering me.)
The below moves are great for strengthening your back side, but they are also great for shaping and lifting too! Swimming suit season will be here before you know it!
Donkey Kicks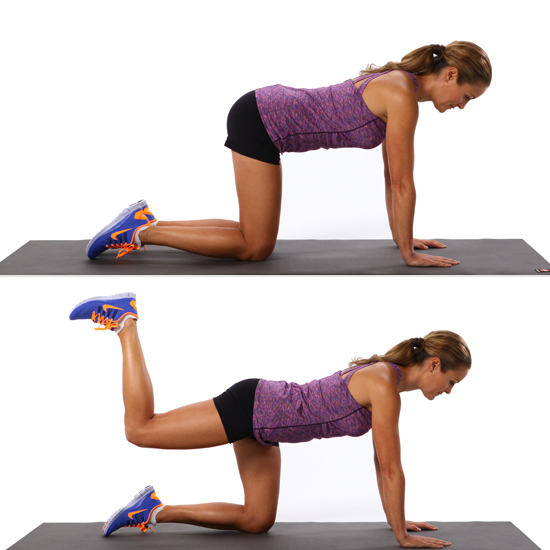 Bridges
Step Ups
Squats
Leg Raises
Ball Curls
A short 2 miles is on the agenda today, so I'm going to take it slow, do some of the above exercises, and then stretch and foam roll the crap out of my hip! Wish me luck.
What did you do this weekend?
Does anyone have any experience with bursitis? Tips? Advice?
What are some of your favorite hip/butt strengthening moves?
How often do you stretch and/or foam roll?