Y'all are pretty darn awesome, you know that?!
Thanks so much for all of your positive feedback and support on yesterday's post re: FAT TALK. It's a huge issue that needs to be addressed, and it's refreshing to know that so many of you are desiring a change.
Those of you that are new around here (a HUGE welcome to you, by the way!), I like to participate in a weekly link up called "What I Ate Wednesday" aka WIAW. (<—Click on the link to get all the details!) It's a way to share snacks and meals in order to provide others with recipes, ideas, and to get a little glimpse into the blogger's life. It's a good time!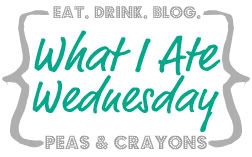 Anyways, I decided to mix things up a bit today…
I'm going to show you Hunter's eats from yesterday so you mamas out there can get some ideas of what to feed your little one. I've had some questions regarding solids and such recently, so hopefully I can answer some of your questions in this post as well.
My little guy, Hunter, will be ten months old a week from today (holy cow?!). We're still doing a mix of purees and finger foods. I was hoping to do the whole "Baby Led Weaning" thing from the get-go, but due to Hunter's high palate, he has a super sensitive gag reflex resulting in lots of gagging and not very much eating. So, I've learned to roll with the punches and have been doing mostly purees. I also get a little paranoid that he's not getting enough when I give him finger foods, and it's something I have to stay on top of since he's always been so tiny. Lately I've been offering him finger foods a couple times a day to practice, and then I feed him purees at every meal. I'm hoping within the next month or two, we can turn entirely to finger foods. I'm still nursing him four times per day, and I feed him three meals per day about an hour after I nurse him.
Here's what his meals looked like yesterday:
Breakfast was baby oatmeal mixed with Babies 'R Us Organic Prunes. I almost always incorporate prunes, pears, or peaches into his breakfast to help him poo. He's had some issues with constipation, and "the three P's" help keep him regular. Thankfully, he LOVES prunes, pears, and peaches, so it's never an issue getting him to eat them.
Lunch was on-the-go at Costco. There are a few days each week that I feed him lunch on-the-go, and I've found the baby food pouches SUPER convenient for these instances. I told myself I'd never buy them, but after I realized how convenient they are and how much he loved them, the plan of never buying them quickly went out the window. They can be a little pricey, but I look for sales and get them for a pretty good price. The particular one he ate yesterday was Babies 'R Us Mixed Greens & Pear, which included pureed broccoli, spinach, and pear. Also, I make sure to pay special attention to the ingredients and never buy the pouches that have "extra" stuff in them (i.e. fruit juice, preservatives, etc.).
Since I got my new blender (!!!), green smoothies have been a daily thing around here. This particular smoothie had banana, blueberries, spinach, full fat plain yogurt, ground chia seed, and almond milk. Hunter LOVES them, and they're a great way to get lots of nutrients in him. I also love to add avocado and nut butters to mix things up and get some extra calories in him. I typically end up just spoon feeding it to him since he's still working on mastering his sippy cup. P.S. Apparently sippy cups are a great teething toy.
After I fed him the smoothie, I offered him some pieces of bean burger and roast beef. The roast beef was a huge hit, and he downed it no problem.
Just a few other notes:
Disclaimer: This is what WE do, but that doesn't necessarily mean it's what YOU need to do!
I do a mix of buying baby food and making it myself. I like to make it because it's cheaper, but if I find a good sale, I have no hesitation buying it. Like I said, the pouches are super convenient too. I just pay special attention to the ingredients and make sure there's no "extras" in the store bought stuff.
I try to buy organic where I can, but I'm not one to be too crazy about it. If it's the same price or cheaper (which sometimes it is!), then I'll absolutely buy organic, but I'm not about to spend a ton of extra money for it.
I rarely give him the "snacky" stuff (i.e. puffs, yogurt melts, etc.). I usually have it on hand, but it's more to keep him busy if we're out to eat or at a friend's house. I don't use it as a regular meal since there's little nutritional value in that stuff.
THIS GIVEAWAY IS NOW CLOSED!
In honor of showcasing Baby Hunter's eats, I also wanted to offer a giveaway to one lucky reader! The winner will receive a copy of the book Super Baby Food.
This book is a GREAT resource for all the baby food questions you may have. I've used it a lot for recipes, ideas, and other baby food tips. I highly recommend it!
To enter the giveaway, comment on this post and tell me:
1) What is your baby's favorite food?
OR
2) Why do you want to win this book?
Only ONE comment/entry per person! Winner will be announced on Friday, January 24.
Good luck!