I totally go in phases with my breakfasts. Up until a few weeks ago, my breakfast of choice for about seven months straight was this oatmeal. Now I'm finally moving on to a new favorite – pancakes! I still love my oatmeal, but pancakes have been making more of an appearance these days.
Enter: my breakfast from yesterday. Flapjacked Banana Hazelnut Pancakes topped with Dark Chocolate Dreams peanut butter (<—you can still enter my giveaway!), banana slices, and maple syrup. Yup, pretty much heaven on a plate right there.
Flapjacked prides itself in making high protein pancake mix made of whole grain ingredients and no artificial ANYTHING. They sent me a few samples to try, and to be totally honest, I am loving them. I was a little hesitant at first because let's be real, most "protein pancakes" don't taste like legit pancakes, you know? But these proved my thoughts wrong. They were light and fluffy just like your traditional pancake, but they're packed with lots of protein and fiber. Now that's my kinda pancake!
My returned love for pancakes came at the perfect timing because February is National Pancake Month!  Betchya didn't know there was a "National Pancake Month", eh? It's all good, neither did I until Flapjacked brought it to my attention.
Enter to Win! For the month of February, FlapJacked is celebrating National Pancake Month by giving away FREE PANCAKES! You will simply share a photo of your favorite way to enjoy pancakes for the chance to win. 3 Prizes awarded weekly! Enter HERE!
Fun, right?! Don't forget to enter!
Let's move on to the rest of my eats from yesterday, shall we? It is What I Ate Wednesday (WIAW) after all!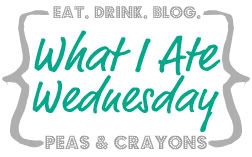 After my Power Pump Class (or any strength training workout), I always try to eat a snack that is extra high in protein. Plain Greek yogurt with Designer Whey Vanilla Almond Protein Powder stirred in and topped with roasted almonds did the trick!
A few hours later my stomach was grumbling, so I went with my newest lunch obsession – a panini. Annette got me hooked on these, and I've been eating one almost every day for lunch this past week. In between two slices of whole grain bread, I loaded mine with turkey, cheddar cheese, goat cheese, Dijon mustard, and spinach. I placed it in the George Foreman grill and voila! – a melty and warm panini sandwich. Yum!
Shortly after lunch, we headed to meet up with a couple of my girlfriends from church at the good ol' Mickey D's. We chatted for an hour or two while I sipped on some unsweetened iced tea.
I put Hunter down for a nap when we got home and decided I needed some peanut butter. A couple spoonfuls did the trick to fuel my blog work for a couple hours.
I made these tacos for dinner, and they were yummy and super easy! I recommend them for a quick weekday meal. Thanks Pinterest! I'll spare you a photo – terrible lighting, not a "pretty" meal, etc.
My day just wouldn't be right if I didn't end it on some sort of sweet note. Chocolate chips to the rescue.
Go make your day a great one!
Do you like pancakes? Or do you prefer waffles or French toast? I go in phases with all of these because I love all three! Lately it's been pancakes.
How do you typically top your pancakes? I'm all about a nut butter, fruit, & syrup!
What's your "go to" lunch? This typically rotates among some kind of sandwich, a salad, or leftovers.
How often do you eat dessert? Every day, duh. Sometimes it's just a handful of chocolate chips (see above) while other times it's something more decadent. Just depends!