You all sure do know how to make a girl feel special! Thank you so much for all of your sweet birthday wishes the last couple days. You guys are the best!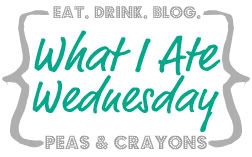 My birthday started off great with a fun workout from Julie. I'm sure I'll be feelin' it for the next couple days!
My breakfast was this cereal using White Chocolate Designer Whey (it may be my new favorite flavor!) topped with thawed blueberries.
While I ate my breakfast, I read my devotions out of Jesus Calling. It was just what I needed.
I got Hunter and myself ready for the day, which was rather challenging considering he was being super clingy to me. I found my stomach still hungry, so I quickly warmed up a Quest protein bar in the microwave for a few seconds (my favorite way to eat them!) and shoveled it in before heading out the door to my friend's house.
She wanted to make my day special so she took me out to lunch to Chick-Fil-A so the kids could play in the play place and we could chat over lunch. I forgot to snap a photo, but I had their chicken noodle soup (thick and hearty – it was so good!) and a salad.
And she surprised me with these chocolate peanut butter cupcakes! Aren't they just so cute?! I was so excited to see they were chocolate, but then I bit into it and it had peanut butter on the inside! Even better!
I had a great day hanging out with one of my favorite people. A friend like her is rare; she's such a blessing to me.
I grabbed a quick snack of Stonyfield Greek Yogurt that Annette gave me. She doesn't care for coffee flavor, so I was happy to take it off her hands! I loved it! I stirred in a little peanut butter with it, and it was even better. Apparently I like peanut butter or something.
Cody made me a really special salmon dinner on Monday night to celebrate, but since we were in a strapped for time last night, I quickly made a homemade pizza. I used whole wheat dough from Whole Foods (our favorite!), and topped it with sauce, bell pepper, onion, mushroom, goat cheese, and mozzarella. It was delicious!
And another cupcake for dessert, of course.
It was a really wonderful day all around, and I'm so thankful for all of you that made it so special for me!
P.S. My mom comes into town this morning! Woo hoo!
When is your birthday?
What makes you feel special on your birthday?
Do you like coffee and/or coffee flavored foods?
White cake or chocolate cake?