Berries are one of my top favorite things about summer.
Also add in grilling, swimming, being tan, lots of sunshine, sundresses, flip flops, tanks and shorts, camping, vacationing, etc. etc. Hm, you'd think I like summer or something.
Anyways, back to the berries. I really don't discriminate when it comes to berries. I love 'em all – strawberries, blackberries, raspberries, blueberries, cranberries, huckleberries, you name it! I used to try to choose a favorite, but I've come to the conclusion that they all tie for first place.
I've been eating berries like they're going out of style lately. And then when I saw blackberries for only 97 cents a carton at the grocery store the other day, I was convinced I was going to turn into a blackberry. 97 cents a carton? You don't have to tell me twice. Needless to say, I stocked up! And then when I got home to unload groceries, I quickly remembered that we're moving on Friday (yes, Friday! Yippee!). I guess that means I'll be eating lots of blackberries in the next couple days. No complaints here!
In honor of What I Ate Wednesday, I thought I'd share my (berry filled) eats with you. No berries are going to waste around here!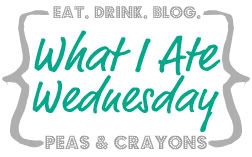 breakfast
This cereal (will it ever get old? doubt it) made with chocolate whey protein powder, chia seed, peanut butter, and milk, and topped with…you guessed, it blackberries.
snack
A cup of 2% mango CHO topped with chia and dun,dun,dun…blackberries.
lunch
I'm currently on one of my smoothie kicks. I made one with blackberries (ha! are you surprised?), strawberries, blueberries, pineapple, banana, spinach, and half orange juice/half water. It reminded me of a Jamba Juice smoothie – yum, yum, yum. Hunter shared it with me. He was a big fan too. I also had a piece of wheat toast with peanut butter and chia seed on top. Since we're moving out on Friday, I don't have much food right now so I'm trying to be creative with what we have left. Peanut butter toast is always a winner, I don't care who you are.
snack
Evidently lunch wasn't enough because I got home from our errands starrrrving. I've had a thing for cheese and crackers lately, so that's immediately what I grabbed. I had some garlic jack cheese (gives you bad breath, but it's totally worth it) with Van's Fire Roasted Crackers. Van's recently sent me these crackers along with some other snack goodies, and these things are SO stinkin' good. I can't keep my hand out of the box. Oh, and they're gluten free for you gluten free-ers out there.
dinner
I was SO good at taking photos of my food all day, and then came dinner. Whoops. Oh well. If any food had to be unphotographed from yesterday, you should be glad it was dinner. I made Grandma Haan's Casserole (a spin-off of shephard's pie), and even though it's super tasty, it's really not very pretty to look at. You're welcome for forgetting to take a photo.
dessert
This was heaven in a bowl.
Nothing Bundt Cake with chocolate chip cookie ice cream. Need I say more?
Tell me your favorite…
…things about summer?
…fruit?
…berry?
…dessert?