OK, who am I kidding?
I love to eat throughout ALL the seasons.
But, I'd have to say, summer is my all-time favorite.
Refreshing smoothies, colorful salads, cold drinks, grilled everything and anything, fresh vegetables, fruit bursting with flavor, yummy ice cream… Can it get any better? I think not!
Yesterday was a pretty summery kinda day on the food front. In honor of What I Ate Wednesday (thanks for the link-up, Jenn!), I thought it'd be a good time to share my summer-ish eats with you.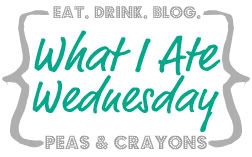 breakfast
This cereal topped with blueberries. No brainer there. It's my favorite, and it's even more so my favorite when it's hot outside.
I really need to mix things up on the breakfast front. I'm foreseeing a possible breakfast challenge in my future. It would involve eating a different breakfast every single day for a specific amount of time. Would anyone want to join me? Hmmm. I haven't even convinced myself to do it yet, so don't worry, you have some time to think about it.
post workout drink
The blender was in the dishwasher, so I did an easy peasy protein shake made with Amazing Grass Vanilla Chai Infusion mixed with milk. Still lovin' the Amazing Grass.
lunch
Leftover grilled veggie pizza. Duh.
Raspberries were also eaten straight out of the carton. This happens a lot around here.
dinner
We had some friends over for dinner, so we busted out the barbecue and grilled some hamburgers alongside corn on the cob and salad. Perfect summer meal right here.
dessert
Company coming over always calls for an excuse to bake something. Ghiradelli brownies did the trick. Those things are like crack.
Mmmmmm summer, I love you!
What are your favorite summer foods?
What would you say is your favorite season to eat?
Do you grill a lot during the summer? What are your favorite foods to grill? We grill everything! I love it all!
How do you eat your corn on the cob? With salt, butter, nothing, etc.? With butter and a little salt!